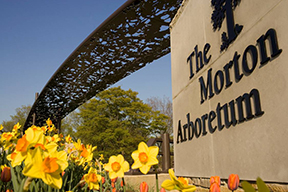 Morton Arboretum All Aboard Tour #100013
Sit back and relax as you learn about the Arboretum's internationally-renowned plant collections, natural history, research programs and Morton family legacy. Dress for the weather! Scheduled seasonal event – Glass Pumpkin Festival.
Registration deadline: October 3, 2017
Location: Eisenhower Center
Day/Time: Saturday, 10:30am – 4:00pm
Dates: October 14, 2017
Fee: $17
Average lunch: $12
Min./Max: 5/15
Enjoy the beauty of nature as an Arboretum
guide conducts a 30 minute narrated tour
aboard an open air tram.
---
Chinatown Van Tour #100013
During an exciting day in Chicago's Chinatown, we'll learn about Chinatown history and experience some of the area's most unique landmarks including Chinatown Square, Pan Asian Cultural Center, Chinatown Pavillion, Nine Dragon Wall, Chinatown Gate, Wentworth Avenue and the House of Fortune.
This tour will provide transportation. You will have lunch at Lao Beijing before the tour and time to walk and explore on your own after the tour.
Food Allergy Alert
Registration Deadline: August 28, 2017

Age: 18+
Location: Eisenhower Center
Day/Time: Saturday, 11:00am – 5:00 pm
Dates: September 9, 2017
Fee: $17
Lunch: $15
Min./Max: 12/15
Registration Deadline is August 29
---
Teen & Adult Social Club #200010
Each month a new schedule of fun and exciting activities are planned.
Drop-off and pick-up @ Stevenson Park, 3101 Washington Blvd., Bellwood
Time: 6:00 – 8:30pm
Fee: See monthly schedule (Activity fees vary)
In district door-to-door transportation ONLY
June – 1x month $5.00
2x month $10.00
July – 1x month $5.00
2x month $10.00
August – 1x month $5.00
2x month $10.00