FREEDOM OF INFORMATION ACT (FOIA)
Procedure for requesting information and public records subject to FOIA Requests for public records should be directed to the Freedom of Information Act Officer, 3101 Washington Blvd., Bellwood, IL 60104, foiaofficer@mempark.org. The Freedom of Information Officer is Pamela Cobbs. No fees will be charged for the first 50 pages of black & white letter- or legal-sized copies requested for other than a commercial purpose. After the first 50 pages, the charge will be $.25 per side. Fees for color or oversize copies will be the actual cost of reproduction. Fee for certification of documents will be $1.00 per document plus copy cost. Fee for electronic records on a storage device will be the actual cost to the Park District for discs, diskettes, tapes or other media. Copies may be picked up at 3101 Washington Blvd., Bellwood.
MISSION STATEMENT
Memorial Park District's mission is to provide opportunities for our residents to enhance their health, fitness and general well-being through parks and recreation.
Memorial Park District maintains 17 parks and playgrounds through the District which includes the Villages of Bellwood and Stone Park and portions of the Villages of Berkeley, Hillside, Melrose Park and the City of Northlake.
Memorial Park District is governed by a 5 member Board of Commissioners who are elected at-large to serve six year terms. Members of the Board annually elect Commissioners to serve as President and Vice President. The Commissioners also annually appoint a Board Secretary and Treasurer.
Members of the Board of Commissioners currently are
(in order of seniority):
Gwendolyn Evans
Charles "Charlie J" Miller
Ted Steiskal
Madelyn Arredondo
Karen Matrinez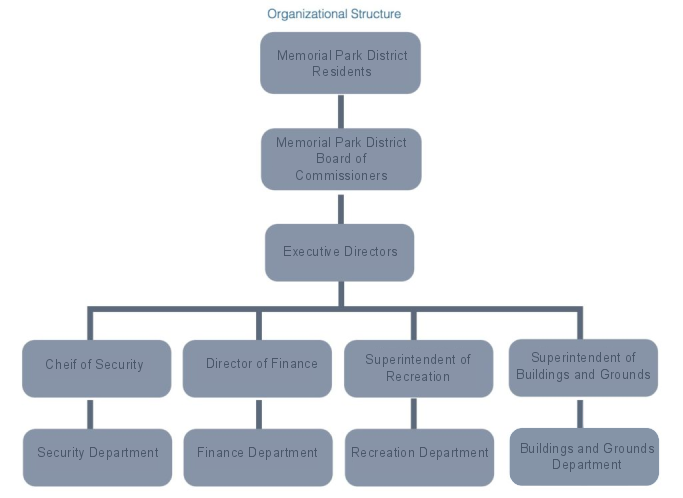 2020-2021 OPERATING BUDGET
Total Budgeted Revenue: $4,900,039.00
Total Budgeted Expenditures: $4,656,278.00
Memorial Park District employs approximately 12 full-time, 31 part-time employees and maintains offices at the following locations:
The Center at Stevenson Park
Administrative Offices and Fitness Center
3101 Washington Blvd.
Bellwood, IL 60104
708-547-5400
708-547-9571 – fax
Eisenhower Community Center
Recreation & Finance Departments
700 Speechley Blvd.
Hillside, IL 60104
708-547-3900
708-547-3342 – fax
Sharp Community Center
1609 North 36th Avenue
Melrose Park, IL 60104
708-547-3900
708-356-4361 – Fax
708-547-0066 – TDD